| | |
| --- | --- |
| Chairs | Frans Brom |
| Day and time | Friday, March 15th, 2013: 10:00 – 11:30 |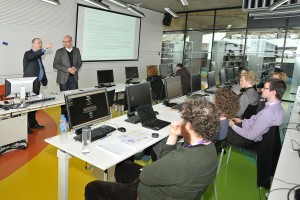 This workshop was intended to open up a debate on the needs of further integration of methodology in assessments of emerging science and technologies, the role of such integration in Parliamentary Technology Assessment, and the concrete make-up of an integrative framework. In the workshop it was first present a summary of the assessment status in the fields of the project case studies, and then presented the ideas about a useful integrated assessment framework for further developing a holistic and consistent basis for good technology governance. The PACITA conference provides an invaluable opportunity for discussing the findings with fellow practitioners and researchers.
The abstracts of the session can be read here.
Presentations of the session:
Anne-Charlotte Hoes (DLO-LEI) / Nils Heyen (Fraunhofer ISI)
The current assessment situation with regard to nanotechnology, synthetic biology, biofuels and cloud computing
Ellen-Marie Forsberg (Oslo and Akershus University College) / Rasmus Øjvind Nielsen (Danish Board of Technology Fund)
Integrated assessments of emerging science and technologies (EST)