Provocative reflexions to build TA in Wallonia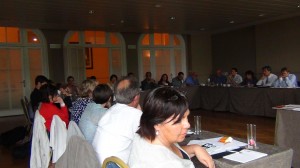 On the 31st of May, 2012, the SPIRAL research Centre of the University of Liège invited a broad number of key actors from academia, policy-making, civil society, industry and labour unions to a half-day workshop in the Château de Namur, the Capital-City of Wallonia, Belgium. The focus was on the exploration of possibilities for Technology Assessment in the Walloon context.
To support their concern, the organisers were backed up by PACITA partners from TA-Swiss, the competence centre for Technology Assessment at the Swiss Academy of Sciences. With its now 20 years of experience in the field of Technology Assessment in Switzerland, TA-Swiss was the perfect organisation to share its accumulated knowledge on doing TA in a complex, multi-lingual federal State and help us draw some recommendations.
In Wallonia, that has been a couple of years that the concept Technology Assessment has slowly made its way on the political agenda. The aim of this first national workshop was then to give an additional push by civil society, academic and other policy-relevant actors to this increasingly significant topic for politicians.
To further advocate Technology Assessment, the Swiss and Walloon partners chose to take up front some critiques usually addressed at TA in order to get those critiques demystified. The workshop was meant to give some informed answers about such allegations (see programme below), relying on Swiss experts and policy-makers' opinions and experience, and further inform Walloon actors about the rationale, working methods and added value of the Swiss institution.
The agenda of this half-day of "provocative reflexions to build TA in Wallonia" can be found here.
Programme
First, Pierre Delvenne (chargé de recherches FNRS, SPIRAL University of Liège) welcomed the participants and presented the Swiss delegation, before introducing the PACITA project to the assembly and giving a brief overview about the history and state of TA in Wallonia. Presentation available
Second, Sergio Belluci, director of TA-Swiss, presented an overview of his institution. Entitled "Walker, there is no path, the path is made by walking" his presentation addressed the history of the Swiss TA organisation, its mission, addressees, products, quality criteria and added-value with a special emphasis on a long lasting experience with participative methods. Presentation available
From this moment, after each presentation, there was a discussion part in order to make the workshop more interactive. The debates were moderated by Sébastien Brunet, General Administrator of the Walloon Institute for Evaluation, Prospective and Statistics and Professor at the University of Liège.
René Longet, former member of the Swiss parliament and nowadays NGO representative, initiated the first discussion round.  His talk entitled  "Is TA a club for environmental NGOs or a democratic facade for industry? Let's be serious." was intended to deal with a first set of critiques towards TA. Stressing that TA responds to a true public demand for bridging the gap between citizens, politics and technology, Longet argued that it can offer clear, unbiased and anticipatory information. He also stressed the methodology and organisational structure as a warrant for impartiality. The
Finally it was the turn of Fulvio Caccia, President of TA-Swiss. His task introducing the second discussion roundtable was to address the question: "Is TA just a new institutional creature? Who reads TA reports?" In his
The event gathered around 30 participants with various backgrounds, covering governmental agencies, counselling organisms, administrations, researchers form various disciplines, customer organisations, TA-practitioners, members of parliament, Ministerial Cabinet staff and so on. To watch some reactions after the workshop, please click here to access the videos.
Follow up
The event will be followed by a round of 6 raising awareness activities within the Walloon Parliament (starting in January, 2013). While it should strengthen the support of TA from the parliament, this will allow getting more in detail into the working modes of TA and what it can offer to members of parliament on topics of particular interest to them.